Customer satisfaction is our eternal pursuit

Rotary Concentration RTO
The products are widely used in building materials, decoration, household appliances, packaging, printing, petroleum, chemical industry, pharmaceutical, agricultural and sideline products (grain, melon and fruit, feed), rubber and plastic, leather, tape, printing and dyeing, automobile manufacturing and other processing and manufacturing industries.
---
Keywords:RTO | Waste Air Incinerator | Coiling Coating Line
---
Product details
Product Introduction
For low concentration and air volume VOCs waste air, the heat generated by VOCs oxidation decomposition is not enough to maintain the RTO's own cycle operation, additional fuel consumption is necessary. Rotary concentration +RTO incinerator is using zeolite(cell stone )as adsorbent/desorption, thus greatly reduce the energy consumption during burn.
Process Principle
A disk wheel filled with zeolite adsorbent is divided into three zones: adsorption zone, desorption zone and cooling zone. Low temperature, low concentration air flow through adsorption zone, to the atmosphere after purgation. Disk rotated, the air that contains a certain amount VOCs get into desorption zone, the 180℃-200℃ air shall blow back and cause adopted VOCs out to get high density air(concentration ratio is 10-20: 1)and send to RTO burned into CO2 and H2O. disk continuously rotated new air in ordinary temperature cooling the high temperature zone and become high temperature air. The process of burning goes round and round.
Processing Flow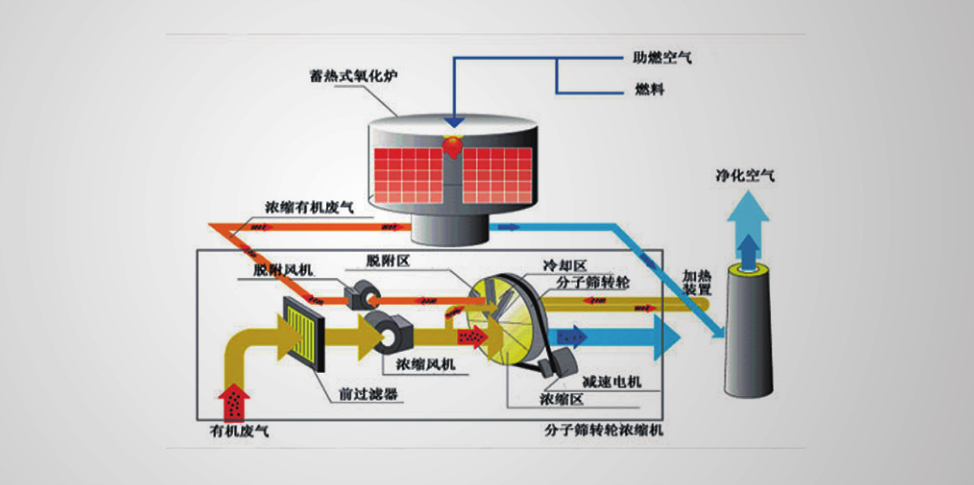 Performance Characteristics
● High desorption efficiency: large flow, low concentration waste air convert into low flow high concentration combustible air. Reduced post machine investment.
● Zeolite(cell stone)adsorption/ desorption reduced power consumption.
● 10-20 times concentration ratio greatly reduce running cost.
● Compact modular design get a minimum space requirement.
● The air after enrichment can meet the state emission standards.
Application
① It widely used for flame plating in automobile, vehicles, shipbuilding industrial. Apply for petro, chemical engineering, ink and colorant industry. Such as rubber and plastic, leather, adhesive tape, electronics, printing and dying, metal plate coating and laminating, construction material etc. as well as food, medicine and additives industry.
② Especially suitable for large workshops and warehouses with low concentration and large air volume to
remove VOCs waste gas.

Welcome to contact us at any time. we will serve you wholeheartedly!

Mobile station
---
Copyright 2023 Changzhou Dinglong Environmen Protection Equipment Co.,Ltd