Customer satisfaction is our eternal pursuit

Rotary RTO
The products are widely used in building materials, decoration, household appliances, packaging, printing, petroleum, chemical industry, pharmaceutical, agricultural and sideline products (grain, melon and fruit, feed), rubber and plastic, leather, tape, printing and dyeing, automobile manufacturing and other processing and manufacturing industries.
---
Keywords:RTO | Waste Air Incinerator | Coiling Coating Line
---
Product details
Product Introduction
The rotary regenerative RTO can be used in a processing system of 5,000- 100,000 Nm3. The RTO structure design is more compact than traditional tower RTO that not only saves the land, but also increase the heat efficiency by using unique rotary valve of which reduced overflow emission. Rotary regenerative RTO can reach purification efficiency up to 99%, which is now the more advanced technology, the more economic system.
Working Principle
①The organic waste air was heated to more than 760℃ more than 1 second, so that the VOCs in the air is decomposed into CO2, and H2O by oxidation.
② The high temperature High temperature gas generated by the oxidation pass through special ceramic medium, the thermo ceramic medium "heat" up and storage the heat. This storage heat will be use pre-heat coming waste air to save the fuel consumption and reduce the running cost.
③The ceramic regenerator divided into three zones. Each zone will be successively and continuously working as heat storage, heat release and purging. After the chamber release the heat, shall input a proper amount of clean air to pure this chamber immediately(ensure the VOCs removal rate reach 99%), and only after the pure has been completed, heat storage procedure could be restarted.
④Burner system shall be used for cold start to increase the chamber temperature. During normal operation, most of the eat collected by recovery ceramic. If the combustible air not enough, auxiliary fuel (natural gas)shall be used to increase chamber temperature. When temperature is too high, the evacuation valve in high temperature zone will be open to release part of the heat.
Processing Flow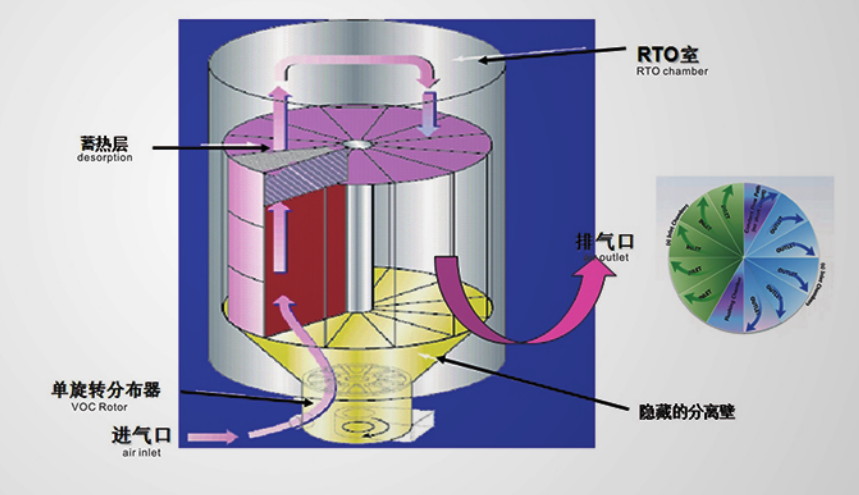 Performance Characteristics
● Good air-tightness, low running cost.
● Small space requirement, no restriction on installation.
● Modular structure, short installation period.
● Automatic operation. To ensure stable running by monitoring system inlet and out let, burn chamber,recovery medium etc.
● Less failure and low maintenance cost.
| | |
| --- | --- |
| Rotary RTO | Traditional tower RTO |
| Leakless | Easy leak |
| Rotary valve continuously running, smoothly air flow,low noise. | Big shack by poppet valve, intermittent pulse of air flow. |
| Simple control with single valve, stable running. | Muilt-valve,more control,more fault. |
| No touch air-tightness design, gear drive, long life. | Ring seal, easily corrode, wear and broken. |
| Intermittent heat/de-heat of recovery medium,extend life time. | Frequency heat/de-heat of recovery medium short life time. |
| High strength steel outside, suitable for expanding and contactin. | Reinforcing post design, not suitable for expanding and contracting. |
| Compact structure, reduce 1/3 weight and space requriement. | More material, more weight and more space requirement. |
Application
①It widely used for flame plating in automobile, vehicles, shipbuilding industrial. Apply for petro, chemical engineering, ink and colorant industry. Such as rubber and plastic, leather, adhesive tape, electronics,printing and dying, metal plate coating and laminating, construction material etc. as well as food, medicine and additives industry.
②Air flow:5000-10000Nm3/h
③Density≥1000mgm3
Welcome to contact us at any time. we will serve you wholeheartedly!

Mobile station
---
Copyright 2023 Changzhou Dinglong Environmen Protection Equipment Co.,Ltd